Dear Josh,
I am sending this email to say "Thank You" and Kristi for such a professional job. Not only from day one but during and after the event. You both went above and beyond to make sure that all of our needs were met. We would certainly recommend St. Louis Event Space for future events.
-Kay N. - Security Title
St. Louis Event space is a great location for CORPORATE MEETINGS AND EVENTS!
Looking for a high-end, luxury meeting room?
Well, that's not us. We are a humble but unique option for your training, meeting or brainstorming session. We are easy to find, there's plenty of parking, and you can pretty much do what you want here. We have hosted everything from a training that sounded like a pep rally, to a brain-storming session where we played spa music for the group.
Looking for a convenient meeting room at a great price?
Now we're talking. We are one of the lowest-cost options in West County for the amount of space we offer. Our room is about 6,000 square feet and includes:
And...
If you want a magician or caricatures to spice up the process – hey, we have that too. You bring in the food of your choice. Or, since we are in the mall, take a break for lunch!
There are many great restaurant options in the mall.
Chesterfield Mall is located near the intersection of Highway 64/40 and Olive/Clarkson. We are on the upper level next to Macy's.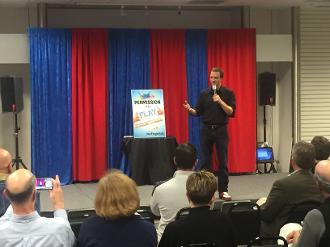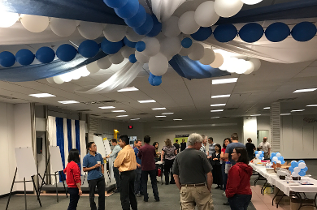 CONTACT US TODAY

314-803-5180
Ginger@circuskaput.com

Businesses can enjoy a casual atmosphere and lots of flexibility at St. Louis Event Space.
This is ideal if you are looking for an alternative to hotel ballrooms and meeting rooms.
Our large private meeting space has been a successful location for companies who wanted to get team members together without a lot of fuss.
St. Louis Event Space is ideal for company meetings and events! Consider us for:
-Meetings
-Trainings
-Brain Storming Sessions
-Team Building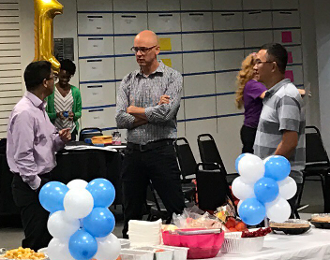 For more info:
Ginger@circuskaput.com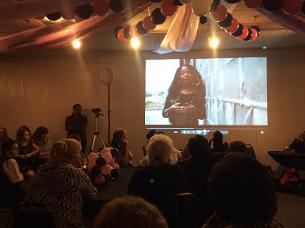 We are proud to offer 6,000 square feet of space that can be arranged to your liking. Available amenities include:
-Sound System
-Projector
-Wi Fi
-Tables & Chairs
-Stage
-Easels
You are not locked into a food contract as we do not handle catering. Feel free to bring in the refreshments of your choice.
Chesterfield Mall is in an ideal location for most businesses in the Greater St. Louis area. Conveniently located near the intersection of Hwy 64/40 and Clarkson/Olive, we offer easy access and ample parking.
© 2018 St. Louis Event Space

This web site is maintained by
St. Louis Event Space

to provide information about St. Louis Event Space and Circus Kaput (CK) booking services and to provide links to sites of independent subsidiaries that provide variety entertainment services in the USA.
St. Louis Event Space
is based in St. Louis, Missouri
314-803-5180
Ginger@circuskaput.com
SITEMAP